Remembrance Day 2021 | Barrie Mellor teaches younger generations about service and sacrifice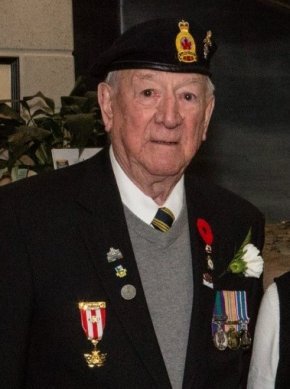 Barrie Mellor didn't go to battle, like his father and many other young soldiers caught up in the Second World War.
But he knows what it means to serve your country. He knows what it's like to be shot at. And he knows how it feels to sacrifice and be stationed far away from home.
A resident at Douglas Crossing Retirement Community in Uxbridge, Ontario, for the past four years, Barrie, 92, grew up in Wales and as a young man served two years with the British Army's Royal Electrical and Mechanical Engineers (REME).
"Having been in the forces, I can relate to not quite being in the war, but I can understand what it was about," he says.
For much of his time in service, Barrie was stationed in Egypt along the Suez Canal zone, where he was responsible for looking after a fleet of 30 military vehicles and self-propelled guns that were involved in operations crossing the Sinai Desert to the Gulf of Aqaba.
Barrie was badly injured in an accident when he was run over by one of the vehicles, shattering one of his legs and ending his days with the REME.
"I thoroughly enjoyed my time in service. I enjoyed being attached to the Royal Artillery. They were very good and I enjoyed looking after the vehicles," he recalls. "I was all ready to sign on and stay in the army, but after this accident, that wasn't possible."
After three months in a military hospital in Egypt with his leg injury, Barrie returned to the U.K. to recuperate. He moved to Canada in 1954, settling in Uxbridge where he continued his career in auto mechanics and worked as a service manager for a car dealership for 30 years.
An active member of Branch 170 of the Royal Canadian Legion, Barrie regularly shares his story and experiences with students at Uxbridge Secondary School through activities organized by a teacher named Tish MacDonald. She also coordinates trips for students to Vimy Ridge in France to learn about Canada's role in the First World War. This week, she made a presentation at Douglas Crossing as part of the home's Remembrance Day activities.
Barrie enjoys helping young people learn about the sacrifices made by veterans and military service members.
"Tish and the school do a terrific job making sure the kids understand this part of our history," he says.